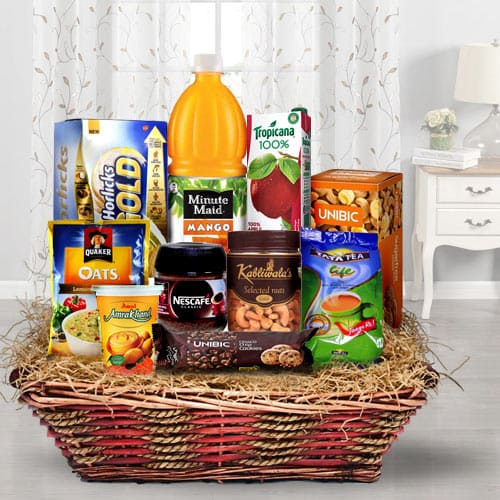 Free Shipping
Assured Delivery
Safe Shopping
24x7 Customer Support
Guaranteed Same Day Delivery If Order Before 4 P.M.
Product Name :
Handsome Big Impression Breakfast Gift Hamper
Product Details :
Have fun with your friends and family with this Handsome Big Impression Breakfast Gift Hamper and enhance your celebrations. This prestigious Gift Basket is featuring your choice of items like One Carton Horlicks Gold Health Drink Malt 400 g, Salted Cashew 250 g, One Pouch Quaker Oats Lemony Veggie Mix with Real Capsicum 40 g, One Bottle Nescafe Classic 50 g, One Carton Unibic Chocolate Chip Cookies 150 g, One Bottle Minute Maid Mango Juice 1 ltr., One Carton Tropicana 100% Apple Juice 200 ml., One Pouch Tata Tea Life Tulsi, Brahmi, Cardamom and Ginger 100 g, One Cup Amul Amrakhand with Real Mango 200 g and One Carton Unibic Cashew Butter Cookies Sugar Free 75 g.
Rs. 2,275.00 / $ 32.50
Earliest Delivery : 24-Jan
Small Towns and Villages may take more time depending on location.
Want early delivery: Click Here for same day hand delivered items