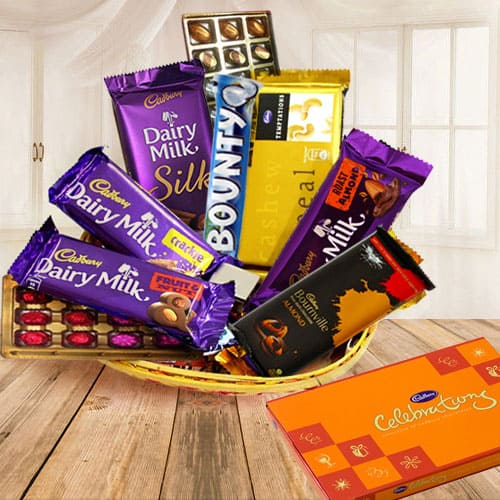 Free Shipping
Assured Delivery
Safe Shopping
24x7 Customer Support
Guaranteed Same Day Delivery If Order Before 4 P.M.
Product Name :
Delicious Chocolate Gift Basket
Product Details :
Deliver to your dearest relatives this simply Delicious Chocolate Gift Basket and give them moments to remember for a lifetime. This Basket comes with 1) Cadbury Diary Milk Roast Almonds, 2) 24 pcs Homemade Assorted Chocolates, 3) Cadbury Diary Milk Silk, 4) Temptation, 5) Cadbury Celebration (126 gms), 6) Cadbury Diary Milk Fruits N Nuts, 7) Cadbury Diary Milk Crackle, 8) Cadbury Bournville, 9) 100 gms Homemade Assorted Chocolates, 10) Bounty Coconut Chocolate Bar (57 gm), 11) A Cane Basket.
Rs. 2,010.00 / $ 28.71
Earliest Delivery : 24-Jan
Small Towns and Villages may take more time depending on location.
Want early delivery: Click Here for same day hand delivered items