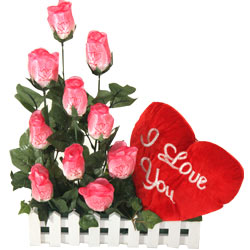 Free Shipping
Assured Delivery
Safe Shopping
24x7 Customer Support
Guaranteed Same Day Delivery If Order Before 4 P.M.
Product Name :
Long Lasting – Pink Roses n Red Heart
Product Details :
A Beautiful Arrangement of Imported Silk/Art. 10 Pink Roses with Heart Shapes on Petals and also a Heart Shaped Cushion. The Flowers and Leaves are washable and can be enjoyed for months. Order this for a long lasting memory.
Rs. 794.00 / $ 11.34